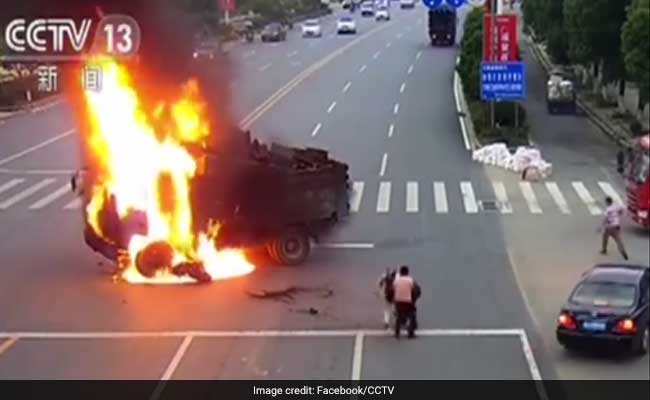 NEW DELHI:  The startling moment a biker ran into a truck and both vehicles caught fire following the crash has been captured on camera. The footage captured in Nanchang, China's Jiangxi province, shows the biker engulfed in flames, yet walking away from the vehicles after the quick-thinking truck driver pulls him away from the accident site. The video shared by CCTV (China Central Television) on Facebook some 21 hours ago has since been viewed over 7.2 lakh times.
The video shows the truck crossing a road when the biker collides with it. Within seconds of the impact, the truck catches fire, engulfing the biker as well. The truck driver can be seen jumping out of the burning vehicle and pulling the biker away from the fire with the help of passersby. The biker is eventually shown walking further away from the burning truck with the help of others.
According to a report in Channel News Asia, the biker, named Chen, was eventually taken to a hospital where his injuries were declared as non-life threatening. The incident took place on May 6, reports Shanghaiist.